Having a credit score can have many benefits.  Wait, having a good or great credit score can have many benefits.  As we go through life, credit becomes an essential tool for an individual to progress through society.  You can use credit to purchase everyday items, a car or a house.  Without credit, some of the essential purchases we rely on to carry us through our lives every day would be unavailable, such as a car for transportation to and from work.  Having a credit score and a good one at that can allow you to get the best deal on large purchases and also helps create a financially responsible person.  But just how does one get a starting credit score, and where do you begin?  I will lay out some of the easiest way to start down the path of a good credit score.
Step 1 to getting a starting credit score:
The first thing you need to do to get a starting credit score is simply to get credit.  The easiest way to do this that I recommend is by opening up a $0 annual fee credit card.  Your monthly limit won't be all that much, most likely less than $1000.  Commit to making a couple easy purchases on it every month and paying it off at its due date.  For example, a couple tanks of gas or a visit to the grocery store is all it takes to start building your credit.  It is vital to pay off the full amount after a month's time before the card's due date. 
Step 2 to getting a starting credit score:
The second step to building a starting credit score is to continue purchases with your credit card and meet the monthly payment date, along with exploring an additional option of building your score.  If you rent an apartment, sometimes the apartment complex allows you to report your on-time payments to credit agencies.  Additionally, if you have student loans you are paying back, this also will show up on one's credit report.  Time is a big factor in your credit score.  It usually takes at least six months for you to build your first credit score.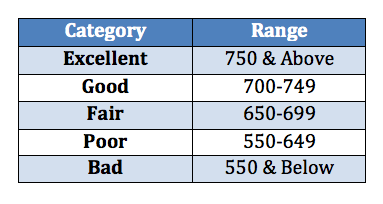 If you make on-time payments in full, you can expect a score anywhere in the range of 675 to 740.
Step 3 to getting a starting credit score:
By step 3, you should already have shown a positive pattern to creditors through making payments on a timely manner.  The most important part of this step is just to be patient.  Building a good or great credit score takes time.  Two of the bigger factors that impact your credit score are the length of time you have had credit and the number of accounts you have that required credit.  Chances are as you start building your credit both of these factors won't be too much in your favor.
In summary, there are many benefits to building a good credit score, but it all boils down to a few simple factors.  Firstly, you need to begin building credit through a $0 annual fee credit card, student loan repayment, etc.  Secondly, you MUST make your full payments and make them ON TIME.  Finally, you need to be patient.  It takes time to build a great credit score, but if you budget correctly and make sure not to spend above your income level then a great score will eventually come.
Budget & Invest News
Join our mailing list to get the latest news from Budget & Invest.